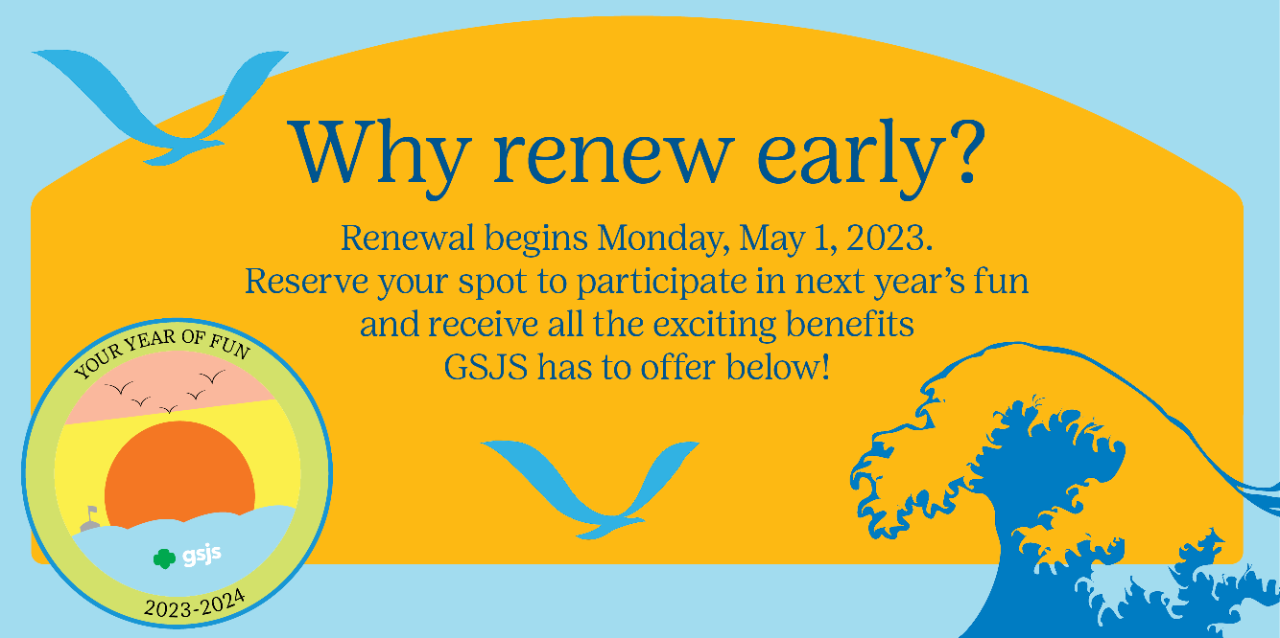 Renew Membership
You are more than a Girl Scout. You're a G.I.R.L. (Go-getter, Innovator, Risk-taker, Leader)™
We believe there's no such thing as too much. That there's no excuse for making excuses. Our strength doesn't come from how much we can lift but from how often we can lift ourselves back up. We are everyday optimists. Adventure seekers. Problem solvers. We are girls, troop leaders, mentors, advocates, parents, Girl Scouts. We are G.I.R.L.s (Go-getter, Innovator, Risk-taker, and Leader). We will not stop. In fact, we're just getting started. Renew today.
The on-time registration deadline on Friday, September 29.
To encourage you to begin your 2017-2018 Girl Scout adventure we're offering the following bonuses when you renew your Girl Scout membership between Monday, September 25 and Friday, September 29. When you renew you'll be entered into drawings for these amazing prizes. Entries are cumulative; the earlier you renew, the more chances you have to win. 
Monday: One $50 American Eagle Gift Card and one $50 Justice Gift Card (One of Each)
Tuesday: Unlimited ride passes for iPlay America (Five Pairs Total)
Wednesday: $25 Jenkinson's Ride Cards (Six Total) 
Thursday: American Girl Nanea dolls with her book (Two Total)
Friday: $100 Visa Gift Cards (Three Total)
As a thank you for registering on-time, everyone who is registered by end-of-day Friday, September 29, for the 2017-2018 Girl Scout year will be entered into a drawing to win one of three pairs of tickets to see Katy Perry at Madison Square Garden on Friday, October 6.
Q: Why isn't my username working?
A: Your username is typically your email address. If you have more than one email address, try each. You can also use the "Forgot Your Password?" link to send a reset email to your email address. If you're still having trouble, contact your council's Customer Care team.
Q: Why aren't I getting the password reset emails?
A: The password reset emails come from gsusacustomercare@girlscouts.org, so please make sure it's added to your safe senders list. If you requested the reset email before marking our email address as safe, check your spam folder. If you're still not receiving the email, contact our Customer Care team to verify that your username/email address is correct.
Q: How do I reset my password when I no longer have access to the email address associated with my account?
A: Our Customer Care team can easily change your username/email address without requiring you to recreate your account.
Q: Why can't I see my family when I log in?
A: There are a couple reasons this could happen:
Another adult family member may be listed as the preferred contact on the account. That person must log in to renew. Contact your council's Customer Care team if you'd like to be listed as your household's preferred contact.
You may have a second or duplicate account with a different email address. Try a different username. If that works, be sure to contact your council's Customer Care team to merge the two accounts into one.
Q: Why can't I see my troop(s) when I log in?
A: There are several reasons this could happen:
Troops are listed on a separate tab from your family. If you have more than one troop, look for the pull-down menu to change between them.
Check your member profile to make sure you're listed as a volunteer in the troop.
Not all troop volunteers can access the troop tab. Check with your council to see which volunteer roles they allow to access the tab.
If your background check has expired, you may lose access until it is up-to-date.
Our Customer Care team can provide additional support.