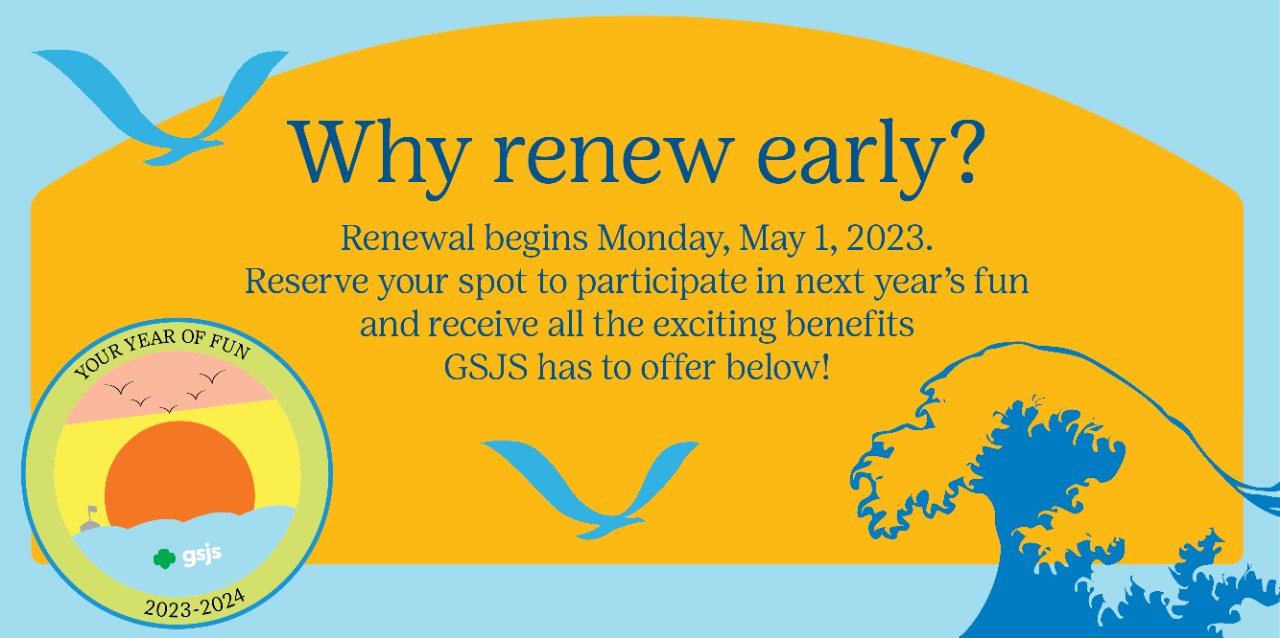 Already a member? Need a password for your Volunteer Toolkit? Click here and resend your password.
Renewing your family's membership? Click the 'Renew Today!' button below and log in to your Member Profile. Click on the MEMBERSHIP tab to add an adult or girl to your household. To edit your household's information, click on the FAMILY PROFILE tab.
Renewing your troop? Click the 'Renew Today!' button below and log in to your Member Profile. Click on the TROOPS tab to renew your troop members by toggling between the Current Year and Next Year dropdowns. Edit their basic contact info and add girls or adults to your troop.
If you would like to update your troop's information (meeting location/day/time, desired number of girls, etc.) or would like to display open spots for girls/volunteers in the opportunity catalog, please fill out our Troop Opportunity Catalog and Information Update form.
NEW! This year, leaders who register their troop before June 30, 2016, are eligible for one FREE leader t-shirt! Leaders must fill out the Early Bird Validation Form to qualify.
Please note: When you open the Membership and/or Troops tabs, you will see a column called "Status." Here's what each status means:
Time to Renew: Girl/volunteer has not renewed for the membership year displayed.
Current: Girl/volunteer is a new member under the membership year displayed. 
Renewed: Girl/volunteer has completed the renewal process and has a current membership for the membership year displayed.
Inactive: Girl /volunteer is not a current member 
Pending FA: Girl has requested financial assistance. GSJS sends the parent/guardian application to complete in order to be considered for financial assistance
In Progress: Volunteer is in process of being approved for new role (when renewing membership each year, staff must manually approve each role in system; this usually takes 1-3 days)
Lifetime Member: Volunteer is a lifetime member and does not need to go through the annual registration/renewal process
Payment Pending: GSJS is waiting for a payment from this member to complete their membership. 
Contact Council: There is an issue with the girl or volunteer's record. They will need to contact GSJS to complete their membership
If you are unable to renew or face any other issues, please email us and we'll get back to you as soon as possible to help you finish the renewal process.