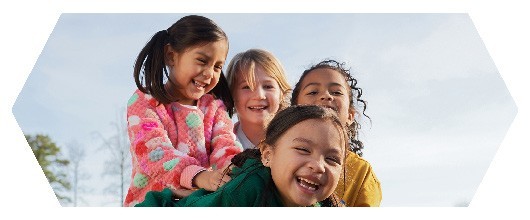 Join Girl Scouts
You're invited.
Be your brightest and boldest self.
Making friends, testing her strengths, exploring new possibilities. It's all here for her.
Whether teaming up with others or learning to shine on their own, Girl Scouts have the tools and community support they need to succeed.
Press play with Girl Scouts. Where she can be herself and her confidence can soar.
She's ready to go.
Ready to Join?

Girl Scouts of the Jersey Shore is thrilled to welcome you and your girl! Membership dues are just $40 annually, but financial aid may be available. Whether you have questions about starting a new troop for your girl and her friends, joining an existing troop, or something else, send us a note at customercare@GSFun.org or call us at (800) 785-2090. We're here for you!
Girl Scouts is open to all girls in grades K-12.
Want to talk more about the world of possibilities and activities available through Girl Scouts?
Visit one of our Girl Scout information Tables this fall at local fairs and festivals to learn all about Girl Scouts.
or
Complete our interest form and we will contact you to discuss Girl Scouts in more detail.

And grownups? Whether you have kids, grandkids, or no kids of your own, you can have a front-row seat to the fun and community, too. Press play and volunteer with Girl Scouts. You've got what it takes to change girls' lives.

Why Join Girl Scouts?
When your girl becomes a Girl Scout, she'll:
Join a group of local girls—called a troop—for regularly scheduled meetings (either virtual or in person)
Make new friends in a space where she feels comfortable to just be herself
Have a community of caring adult volunteers to guide her as she tries new things
Practice new skills and earn Girl Scout badges and awards
Make the world a better place by helping her community
Try coding, robotics, engineering and more through hands-on STEM activities
Enjoy the great outdoors while learning how to protect animals and the environment
Build business smarts through the Girl Scout Cookie Program