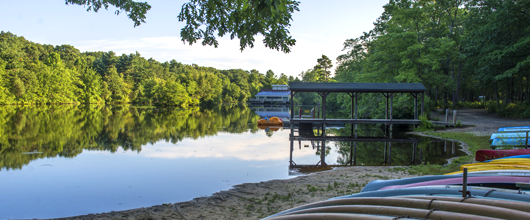 Facility Use/Rental
Want to get away from it all? Whether you want a weekend in the woods alone or with family or a corporate retreat with your coworkers, the Girl Scouts of the Jersey Shore have a wide variety of options to meet your needs.
With convenient locations available in Monmouth and Ocean Counties, approximately an hour from both New York and Philadelphia, our three sites offer the potential for a wide range of activities.
Our indoor meeting spaces are appropriate for fewer than a dozen people to more than several hundred with many multi-media options available. Our outdoor space ranges from the rustic wild to the modern outdoors – nature combined with modern comforts.
We can also provide facilitators for all of your activities, including lifeguards for swimming, safety experts for the climbing wall, zip line or archery and naturalists for hikes through the woods. We can even provide someone to safely start a fire for you in a fire pit or charcoal grill or provide you with the phone number for a local restaurant that delivers pizza.
Click here to download our Camp and Facility usage information – everything from floor plans to registration forms 
If you have questions, call us at (800) 785-2090, or email us
Reserve A Facility Now!
You can now reserve Girl Scout facilities online. Registration is simple!
Select the location for the facility you want to reserve from the list below.
In the right column, choose a category of reservation and the date(s) you want to reserve. 
Select "Search"
From the middle column, choose the location you want to reserve.
In the right column, select Check Out.
Follow the remaining directions to confirm your personal information and payment.