Celebrating our history—creating our future: 110 years of Girl Scouts.

Merriam-Webster defines mosaic as "a surface decoration made by inlaying small pieces of variously colored material to form pictures or patterns." Our mosaic forms these small pieces and moments into 110 years of Girl Scout tradition. Creating a movement of nearly 2 million girl members and more than 50 million Girl Scout alums—united across the decades by a spirit of lifelong friendship and shared adventure and the desire to do big things to make the world a better place.
For 110 years, Girl Scouts have found a way to create a better future for themselves, their communities, and the world. With big plans on the horizon, we can't wait and see what they do next.
Through the support of donors like you, Girl Scouts have been a force for positive change in our world for 110 years—tackling issues in their communities, helping others, and leading into the future. And you can help ensure another 110 years of problem solvers, go-getters, dreamers, and doers with a gift to Girl Scouts today.
Let's celebrate creating a better future for us all!
Earn your "Creating Our Future Challenge" patch in honor of 110 years of Girl Scouts!
Click here to download the activity sheet.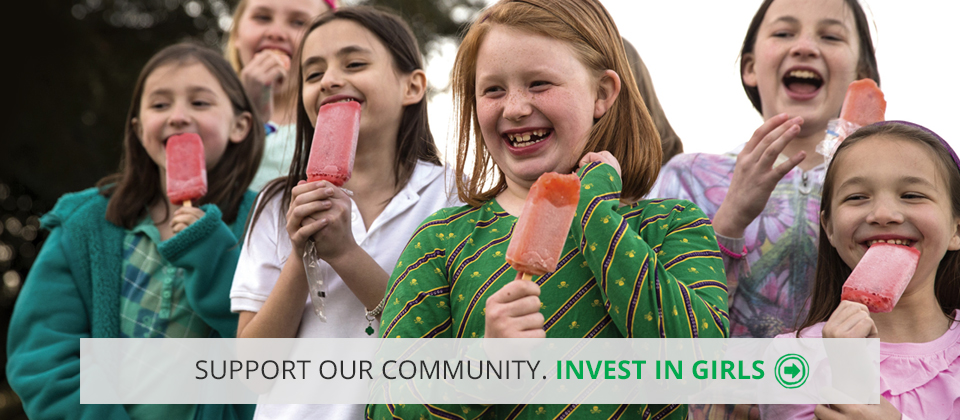 Invest in girls.
Change the world.
You know it when you meet a Girl Scout. A Girl Scout shines, reflecting the confidence ignited within her. A Girl Scout sees herself in the stars.
A Girl Scout raises her hand to lead the experiment.
A Girl Scout believes she can change the world, because she does. 
When you give to Girl Scouts, you are giving to girls.
Are you a current or past leader?  In recognition of Girl Scouts' 110th Anniversary you will be recognized as a Platinum Leader with your donation of $110 or more. Every Platinum Leader receives special recognition and an exclusive Platinum Leader pin to wear proudly.
---
Here are some highlights of what you help us provide:
Traditional Girl Scouting
Non-Traditional Girl Scouting for girls at risk
STEM programs
Financial literacy programs
Camping opportunities
Scholarships and financial assistance
Thank you for giving. Together we are building compassionate and confident leaders of tomorrow!
For questions about in-kind gifts or other types of giving, please contact the fund development office.
Donate Now
Girl Scouts builds girls of courage, confidence, and character, who make the world a better place. To do this, it costs approximately $250 annually to support a girl through leadership training and programs. Your gift will ensure a girl gets the chance to grow.
In times of sorrow, some families request donations be made to
Girl Scouts of the Jersey Shore in memory of their beloved who passed away. Whether they were a friend, family member or loved one, your memorial gift will bring comfort to their family.
Download our printable memorial card and drop it off or send it to us along with your donation or give online using the link above.
Alternative Giving
Amazon 
AmazonSmile
When shopping AmazonSmile, Amazon will make a donation to the Girl Scouts of the Jersey Shore. Our official non-profit link will help you get set up.
Banking
Investors Bank Care2Share Affinity Program
When you link your eligible accounts to an enrolled non-profit, the organization will recieve .25% on the average monthly balance of your checking account or .15% of the average monthly balance of your saving account.