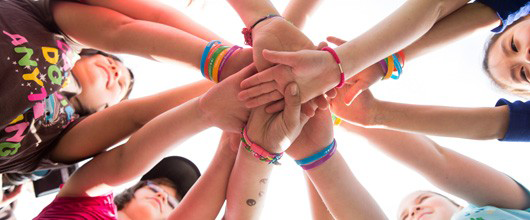 Our Council
Girl Scouts of the Jersey Shore is excited you're here!
As your local council, we're committed to building girls of courage, confidence and character who make the world a better place!
Our council serves more than 15,000 girls and adults in Monmouth and Ocean counties. As the pre-eminent leadership development organization for girls, we're your guide and partner to all-things Girl Scouts and we can't wait to get you started.
When a girl joins our council, she discovers the world around her, she connects with others in a multicultural, all-inclusive environment, and she takes action to make a difference in her community and the world.
Ready for your next adventure? Join us! Ready to change a girl's life? Become a Girl Scout volunteer today! Got questions? Contact our council, and we'd love to tell you more.  
Want to visit and see us for yourself? Our locations are listed below!
---

Ocean Service Center

1405 Old Freehold Road

Toms River, New Jersey 08753

732-349-4499

Shop Hours

Monday-Thursday 8:30 a.m.-5:00 p.m.

Friday 8:30 a.m.-4:00 p.m.

Office Hours

Monday-Thursday 8:30 a.m.-5:00 p.m.

Friday 8:30 a.m.-4:00 p.m.

---

---

Monmouth Service Center

242 Adelphia Road

Farmingdale, New Jersey 07727

732-938-5454

Shop Hours

Monday-Thursday 8:30 a.m.-5:00 p.m.

Friday 8:30 a.m.-4:00 p.m.

Office Hours

Monday-Thursday 8:30 a.m.-5:00 p.m.

Friday 8:30 a.m.-4:00 p.m.

---

Program Activity Center

127 Yellow Brook Road

Farmingdale, New Jersey 07727

This multi-use facility is located on the edge of Camp Sacajawea and provides an indoor facility with the flexibility to meet a wide-range of program and event needs. 
 

---

Sacajawea Day Camp

242 Adelphia Road

Farmingdale, New Jersey 07727

Sacajawea Day Camp provide a summer of fun to hundreds of Girl Scouts every summer. A typical camp day is from 9:00 a.m. to 4:00 p.m. Optional busing is provided and financial assistance is available.

---

Amity Acres Day Camp 

133 Jones Rd,

Barnegat, NJ 08005

Amity Acres Day Camp, located in the Waretown section of Barnegat, provide a summer of fun to hundreds of Girl Scouts every summer. A typical camp day is from 9:00 a.m. to 4:00 p.m. Optional busing is provided and financial assistance is available.

---